ABC has posted the first episode of the Karen Gillan/John Cho sitcom Selfie online. Given the premise ("A young woman self-obsessed with her online persona asks a marketing guru for a real-life makeover in this re-telling of the classic My Fair Lady.") I was prepared to hate it but I didn't.
Just to get it out of the way, Karen Gillan's Eliza doesn't sound like someone born and raised in the United States. I didn't find it distracting but you might.
I liked John Cho's Henry since I'm also a forty-something guy who's not real big on social media.
Like I've read elsewhere there is a question how long the show run on its premise. I don't think there's any real doubt about "will they or won't they" regarding Eliza and Henry. That can only be drawn out for so long. We'll just have to see what twists they throw in.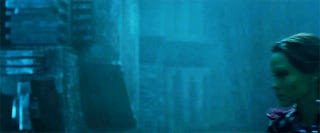 (Like maybe a visit from Eliza's adoptive sister.)
You can watch the pilot here and a few other places online.